Although office professions are recognized for being sedentary, they still take a toll on our bodies. A sedentary lifestyle can lead to various health problems, including spinal disorders.
Several studies estimate that most office employees suffer from back pain from sitting at their desks for prolonged periods. Millions of people are affected by office back pain, which causes pain, discomfort, and significant limitations later in life.
If you are experiencing back pain due to your job, don't hesitate to schedule an appointment with Dr. Rajesh Thunuguntla. He is considered one of the best orthopedic surgeons in Hyderabad. During the consultation, not only will it be in your best interests to diagnose and treat any existing back disorders, but it will also be beneficial to discuss the most efficient ways to alleviate back pain.
It is critical to understand the causes of office back pain and make efforts to alleviate it. With that in mind, these are the three most important things you should do at work to relieve back pain.
1. Create a Back-Friendly Working Environment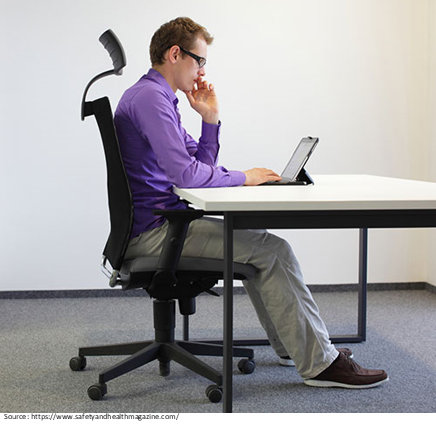 The first step in alleviating back pain is embracing ergonomics and creating an office atmosphere that promotes pain alleviation. It is critical to have an office chair with an adjustable backrest and arms.
Consider purchasing a standing desk that allows you to alternate between sitting and standing throughout the workday, as this has been proven to be beneficial in preventing back problems. Even a basic step like selecting a swivel chair is critical since it prevents you from twisting and contorting your spine and torso during the day. Request an ergonomic keyboard from your boss so that you are not slumped over it all day.
All of these will be pretty beneficial. Given that most individuals spend at least 65 percent of their weekdays at work, an office chair that encourages proper posture and protects your spine from further wear and tear is essential.
Keep these suggestions in mind while looking for a comfy office chair to safeguard your back or neck from injury:
A comfortable chair will adjust to your height with ease. The chair should be high enough so that your feet stay flat on the floor and your thighs are parallel to the ground.
The chair should be broad and wide enough to accommodate your entire body comfortably.
The backrest must support your lower back and the natural curvature of your spine. To accommodate your height, the lumbar support should be adjustable.
The armrest must be low enough to support the arms while allowing the shoulders to relax.
Besides finding a chair that protects your spine from degenerative disc disease, lumbar spinal stenosis, and other painful conditions, it's also a good idea to take short rests throughout the day to relax your back and reduce weariness.
2. Develop Good Habits
Good habits can help you avoid a lot of the back pain that comes with sitting at a computer all day. The first rule is to keep yourself moving all day. Stretch your legs and back by standing up. At least every 60 minutes, take a rest.
Instead of slouching while walking, try to maintain proper posture.
If you make many phone calls during the day, you might consider utilizing a hands-free phone to avoid tilting your head and straining your neck. Finally, remember to move comfortably, naturally, and leisurely manner.
3. Maintain a Right Posture
The importance of good posture in avoiding back discomfort cannot be overstated. Maintaining correct posture and pain management requires active muscle usage around the spine. There are numerous suggestions for maintaining an upright posture during work.
To begin, make sure that your head and neck are perfectly aligned above your shoulders. Make sure your shoulders are square with your monitor, and your back is straight. When you are sitting, keep your back firmly on the backrest of your chair.
Keep your feet flat on the ground as much as possible while sitting at your computer, and avoid crossing your legs altogether. Whenever possible, your knees should be at a precise 90oangle. You can purchase a footrest to assist you in achieving this goal.
Take care of your back pain right now.
Don't give up if you are already experiencing back pain. With the proper treatment from a skilled orthopedic in Hyderabad, India, you can bring yourself back into a pain-free state, making it easier to follow these important guidelines and tips.
We have got you covered if you seek a quick, effective, and long-lasting back pain treatment.
Please plan a consultation with Dr. Rajesh Thunuguntla, a skilled orthopedic doctor and knee treatment specialist in Hyderabad, to effectively treat orthopedic issues, including back and knee problems.